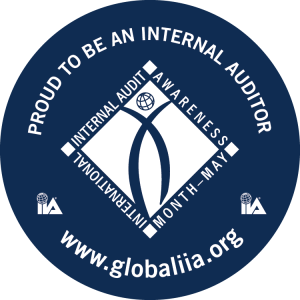 Salam hangat,
Untuk membangun kesadaran tentang pentingnya peran audit internal di seluruh dunia, bulan Mei ditetapkan oleh The Institute of Internal Auditors (The IIA) sebagai International Internal Audit Awareness Month. Dalam bulan ini, profesi audit internal berupaya meningkatkan advokasi profesi ke organisasi dan komunitas, serta mempromosikan pentingnya profesi audit internal kepada para stakeholder. Pada akhirnya, program ini bertujuan untuk meningkatkan pemahaman tentang nilai yang audit internal dapat persembahkan kepada organisasi, baik di sektor publik maupun swasta.
The IIA telah mengembangkan berbagai contoh-contoh aksi yang dapat gunakan untuk melaksanakan program tersebut, untuk melihat contoh-contoh tersebut silahkan lihat dalam tautan berikut:
https://global.theiia.org/about/about-internal-auditing/Pages/Promoting-the-Profession.aspx
Kami mengharapkan seluruh anggota IIA Indonesia, para kolega, khususnya para Kepala Satuan Audit Intern dan Auditor Senior untuk dapat berpartisipasi secara aktif dan terlibat penuh untuk meramaikan International Internal Audit Awareness Month di lingkungannya masing-masing.
Terima kasih atas kerja keras para kolega membangun profesi audit internal di Indonesia.