Oleh: Institute of Internal Auditors (IIA) Indonesia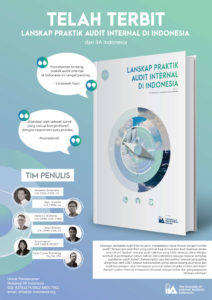 Seberapa seringkah audit internal perlu mengadakan rapat formal dengan komite audit? Berapa jam pelatihan yang optimal bagi dirinya dan anak buahnya dalam satu tahun? Apakah rencana audit tahunan yang telah disetujui perlu ditinjau kembali di pertengahan tahun bahkan dimutakhirkan sebagai respon terhadap perubahan profil risiko? Keterampilan apa dari auditor internal yang paling diinginkan oleh CAE? Apakah keterampilan teknis dalam bidang akuntansi dan audit kecurangan, atau kecakapan personal dalam berpikir analitis dan kritis? Apakah auditor internal mengalami tekanan sebagai akibat dari pengungkapan temuan olehnya?
Buku ini menjawab pertanyaan dan keingintahuan yang seringkali mengemuka. Ditulis oleh para praktisi yang berpengalaman dalam bidang audit internal serta area-area yang terkait, buku ini menyajikan analisis atas berbagai fenomena yang terungkap dari The Common Body of Knowledge (CBOK) 2015 Global Internal Audit Practitioner Survey yang diselenggarakan oleh The Institute of Internal Auditors (IIA) pada tahun 2015 dan dari Survey Nasional Audit Internal Indonesia yang dilaksanakan oleh IIA Indonesia pada tahun 2016. Topik-topik yang dibahas di dalam buku ini terinspirasi dari laporan-laporan CBOK dari The IIA Research Foundation (IIARF), yang dirilis secara serial dalam kurun waktu tahun 2015 sampai dengan tahun 2016. Para penulis juga mewawancarai narasumber-narasumber yang memiliki kompetensi, yaitu para CAE dari berbagai sektor industri termasuk sektor publik, serta praktisi dalam bidang audit internal, untuk memperkaya pembahasan atas topik-topik yang diulas.
Untuk pemesanan buku ini dapat menghubungi IIA Indonesia di: 021 8378 2174 / 0812 8805 7901 atau email: info@iia-indonesia.org