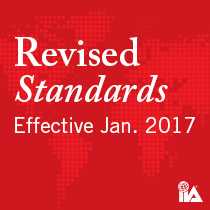 Perubahan yang diajukan untuk IIA International Standards for the Professional Practice of Internal Auditing sudah disetujui pada bulan Oktober 2016 dan mulai berlaku sejak 1 Januari 2017.
Revisi tersebut mencakup penambahan dua standar baru, penyelarasan Standards to the Core Principles, dan pembaruan terhadap standar yang ada.
Standar baru dalam versi bahasa Indonesia juga sudah tersedia dan dapat diunduh oleh anda semua, berkat dukungan dari para volunteer IIA Indonesia.
Informasi lebih lengkap mengenai Standar baru dari IPPF dapat dilihat di:
https://global.theiia.org/standards-guidance/mandatory-guidance/Pages/Standards.aspx
Kemudian semua implementation guide baru tersedia untuk membantu Anda dalam penerapan terhadap perubahan pada Standards:
https://global.theiia.org/standards-guidance/recommended-guidance/Pages/Practice-Advisories.aspx