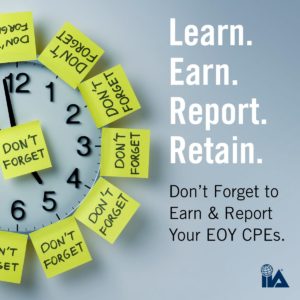 Jendela pelaporan Pendidikan Profesional Berkelanjutan (CPE) dan Pengembangan Profesi Berkelanjutan (CPD) 2019 sekarang terbuka. Semua individu yang bersertifikat dan berkualifikasi harus melaporkan jam kredit CPE tahunan mereka pada tanggal 31 Desember 2019. Individu yang bersertifikat atau berkualifikasi dapat meninjau persyaratan CPE dan CPD, penetapan harga, dan rincian pelaporan dengan mengunjungi halaman web Pelaporan CPE.
Sebagai pengingat, dua (2) kredit CPE harus dipenuhi dalam bidang etika. Pelaporan dikelola melalui Sistem Manajemen Kandidat Sertifikasi (CCMS); harap ingat untuk memverifikasi bahwa alamat email utama Anda di CCMS valid ketika Anda melaporkan jam kredit CPE atau CPD Anda.
Selain mengaktifkan kemampuan untuk menampilkan kredensial sertifikasi Anda, memenuhi persyaratan pelaporan CPE dan CPD membuat Anda memenuhi syarat untuk dimasukkan dalam The IIA Certification Registry. Ini adalah kesempatan bagi pemberi kerja dan perekrut untuk memverifikasi sertifikasi Anda, karena The IIA Certification Registry adalah catatan terkini dari individu yang telah mendapatkan sertifikasi IIA dan memeliharanya dengan melaporkan CPE untuk menjaga kredensial mereka tetap aktif. Semua pemegang sertifikasi aktif IIA yang memilih untuk ikut serta secara sukarela akan dimasukkan dalam registri.
Kunjungi halaman web Pelaporan CPE sebelum 31 Desember 2019 untuk mengirimkan jam kredit CPE atau CPD Anda, melihat persyaratan, dan banyak lagi.
Hormat kami,
Institute of Internal Auditors (IIA)