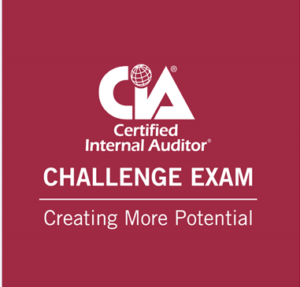 Sebagai bagian dari komitmen untuk pengembangan professional, bagi para pemegang aktif sertifikasi CCSA, CFSA, atau CGAP sampai dengan tanggal 31 Desember 2018, The IIA menawarkan CIA Specialty Challenge Exam untuk individu yang memenuhi syarat untuk periode waktu terbatas.
CIA adalah sertifikasi utama The IIA yang diakui secara global untuk audit internal. Memiliki sertifikasi CIA membuktikan kredibilitas dan kecakapan Anda. Sekarang adalah waktu yang tepat bagi Anda yang memenuhi syarat untuk dapat memanfaatkan program CIA Specialty Challenge Exam.
Syarat dan Ketentuan:
Anda harus memiliki sertifikasi CCSA, CGAP atau CFSA paling lambat 31 Desember 2018.
Sertifikasi CCSA, CFSA, atau CGAP Anda harus aktif pada saat mendaftar dan mengikuti ujian CIA Speciality Challenge.
Keterangan Ujian:
Terdiri dari 150 pertanyaan.
Durasi ujian 3 jam
Didasarkan pada sertifikasi CCSA, CFSA, atau CGAP yang saat ini Anda miliki dan silabus CIA 2019, dan
Menekankan pada Kerangka Kerja Praktik Profesional Internasional (IPPF).
Ujian dalam Bahasa Inggris.
Periode Pendaftaran:
Periode Program: 1 April 2019 – 15 Desember 2020
Pendaftaran: 1 Mei 2019 – 15 Desember 2020
Waktu Ujian: 1 Juli 2019 – 31 Desember 2020
Informasi lebih lanjut dapat dilihat di sini
Atau dengan menghubungi IIA Indonesia di: 021 8378 2174 / 0812 8805 7901 / putri@iia-indonesia.org
https://global.theiia.org/certification/Pages/Certification-Transition.aspx#CIA%20Challenge%20Exam