Standart And Practice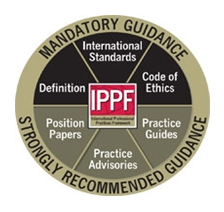 Professional Practices Framework
The IIA's blueprint for the profession that offers practitioners a full range of internal audit authoritative guidance, including the Standards, Code of Ethics, practice advisories, position papers, and practice guides.
Responses
View The IIA's responses to internal audit-related exposure drafts and requests for comment from other organizations.
Additional Resources
Find the guidance resources you need in such areas as Corporate Governance, Risk Management, Expressing an Opinion on Internal Control, COSO Guidance, Establishing an Audit Shop, Sustainable Development, and many more subject areas.
Frequently Asked Questions (FAQs) About the Profession
Gain a better understanding of the internal audit profession and help others do the same. These key concepts have been written in clear and concise language, and can be used in presentations to upper management and audit clients. They can also help you answer the question, "So you're an internal auditor … what's that?"
Affiliate Guidance
The documents found under Affiliate Guidance have been issued by affiliates of The IIA, after local due process. This guidance may be particular to the culture and/or to the legal and regulatory environment of that region. The IIA's Professional Issues Committee, a global committee, believes they this guidance may provide useful insights to individuals in other geographies. The guidance has not gone through an authoritative global IIA review process and does not form part of The IIA's International Professional Practices Framework. Therefore, this guidance includes neither mandatory nor endorsed and strongly recommended practices for the global community of internal auditors.
Professionalism
Internal auditors who wish to demonstrate their commitment to professionalism and the practice of internal auditing in compliance with the International Professional Practices Framework (IPPF) should aspire to become certified. The Certified Internal Auditor® (CIA®) designation is the only globally accepted certification for internal auditors and remains the standard by which individuals demonstrate their competency and professionalism in the internal audit field..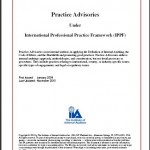 IIA Advisories
[wpdm_file id=3]