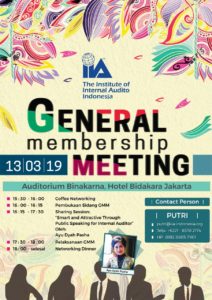 Sebagai bentuk pertanggungjawaban kepada seluruh member IIA Indonesia, Board of Governors mengundang seluruh member aktif IIA Indonesia dalam General Membership Meeting.
Agenda meliputi penyampaian laporan pertanggungjawaban Board IIA Indonesia dan Talk Show bersama Ayu Dyah Pasha dalam topik Smart and Attractive Through Public Speaking for Internal Auditor.
Acara akan diselenggarakan di Auditorium Binakarna, Hotel Bidakara Jakarta, pada hari Rabu tanggal 13 Maret 2019, dimulai pukul 15.00 hingga pukul 18.00 WIB.
Untuk kepentingan akomodasi oleh Executive Office IIA Indonesia diharapkan agar para member segera mengkonfirmasikan kehadirannya dengan menghubungi Putri di 021-8378-2174 atau email ke: putri@iia-indonesia.org