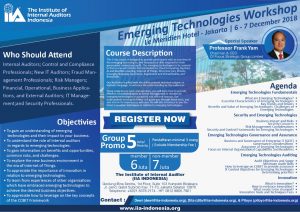 IIA Indonesia akan mengadakan executive training dengan narasumber Prof. Frank Yam (IIA Hongkong) tentang teknologi dan tools terkini yang diperlukan dalam mendukung keberhasilan implementasi GRC.
Dengan menggunakan tools dan exercises yang siap digunakan, Anda akan belajar bagaimana memberikan rekomendasi yang efektif kepada manajemen bagaimana menghadapi perkembangan teknologi secara praktis dan efisien.
Teknologi baru yang akan dibahas dalam kursus ini akan mencakup, tetapi tidak terbatas pada, Cloud Computing, Big Data, AI and Machine Learning, Internet of Things, Driverless Cars, Drones, Emerging Shopping Experience, Augmented and Virtual Reality, and Blockchain.
Untuk mengetahui informasi lebih lanjut silahkan menghubungi:
IIA Indonesia
Bina Sentra Bidakara Bldg., 1st Floor Suite 103, Jl Jend. Gatot Subroto Kav. 71-73, Jakarta 12870
No Telepon yang dapat dihubungi: Telp (021) 8378 2174, HP: 0812 8805 7901.
Contact Person:
• Dewi Email: dewi@iia-indonesia.org
• Dita, Email: dita@iia-indonesia.org
• Pitoyo, Email: pitoyo@iia-indonesia.org / marketing@iia-indonesia.org